Floorball stick of world champions
With floorball stick EXEL IMPACT 2.6, blade E-fect and white grip Versus, Swedish defender, Tobias Gustafsson, played the Men Floorball World Cup in 2021. Beside winning a gold medal for the 1st place in Swedish team, he also got a personal price and became a member of All-star Floorball World Cup team.
What is Impact?
We spent months and months to develop the perfect stick to fit modern playing style. We created a full set of new high quality components and combined them in to one unique stick. Every part of the product is something you have never seen before. As an end result, Impact is a world class stick with top performance attributes designed just for you.
• MPRF

Brand new shaft construction enables multi-performance playing style. Whether you are a creative playmaker or a lethal sniper, MPRF is a perfect fit for you. Light weight 100% carbon shaft produces extremely soft touch combined with great resilience.
• Twill design

In MPRF shaft the weaving way of carbon yarn has been drastically changed. Diagonal parallel ribs result a tight and compact outcome, meaning more power and endurance. The eye-catching twill finishing is easily visible for user as well.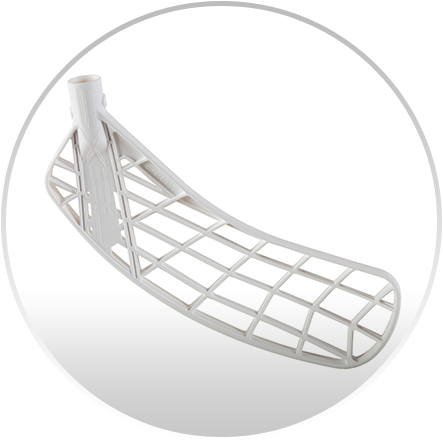 • E-Fect blade

Brand new top performance blade made in Finland. It's designed to fulfill the requirements of modern style of play. Shoot precisely and effectively with 8,5mm concavity. 18mm pre-curve ensures easy dribbling. Ready to go open face angle (13,4°) guarantees fast and accurate shooting. E-Fect is the most modern blade on the market.
• Rival Grip

New comfortable Rival grip ensures a robust grasp of your stick. High performance leather is completed by an extremely durable and super sticky coating. No prints, no slippery points.